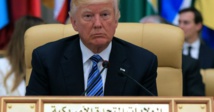 Trump is scheduled to hold talks with Prime Minister Shinzo Abe and meet the families of Japanese nationals who were kidnapped decades ago by Pyongyang, the White House said Monday.
"I would like [Trump] to cooperate for an early return of all remaining abductees in any way he could," Sakie Yokota told reporters in Kawasaki, referring to Trump's early November visit.
Yokota is the mother of Megumi Yokota, who was 13 years old when she was kidnapped on her way home from school by North Korean agents.
At least 17 Japanese nationals were abducted by the reclusive state in the 1970s and 1980s, according to the Japanese government.
In 2002, North Korea admitted that Japanese citizens had been kidnapped by its own agents, and five of the 17 were returned to Japan. Pyongyang said eight, including Megumi, have died, but it has failed to provide documents or evidence to support these claims.
In September, Trump condemned North Korea's human rights record, including the abduction issue, in his speech to the UN General Assembly.
Yokota met presidents George W Bush and Barack Obama, but the issue has never been resolved.
"Our objective is not a meeting with a US president but a return of all abductees," said Shigeo Iizuka, head of the abductees' family group, according to the Nikkei business daily.
Notepad