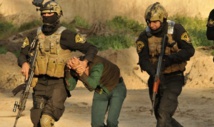 The men were immediately detained upon their arrival, while programmes had been prepared for the social reintegration of the women and children.
"This action is a clear message that our country does not surrender its citizens and does not support terrorism," Justice Minister Abelard Tahiri told a press conference in Pristina on Saturday, according to the website of the Kosovo daily Koha Ditore.
Police say 30 fighters, 49 women and 8 children from Kosovo remain in Syria.
The US embassy in Pristina praised Kosovo's decision to bring back its citizens who were lured to Syria by the jihadists.
"With this repatriation, Kosovo has set an important example for all members of the Global Coalition to Defeat ISIS and the international community to follow," the embassy said. "We applaud their compassion in accepting the return of this large number of civilians."
The US also thanked the Syrian Democratic Forces, the Kurdish-led militia that fought Islamic State and runs the camps in Syria where people are being held since the extremists were defeated in the north-east of that country.
Islamic State militants successfully recruited thousands of members from other countries, including Europe. Several hundred fighters and sympathizers came from Balkan countries with a Muslim population.
The extremist group once controlled vast swaths of territory across Iraq and Syria. Following years of fighting by the US-backed SDF, the group has largely been reduced to a rural insurgency.
Experts warns Islamic State could mount a resurgence in the Middle East if there is no sustained planned to ensure its fighters do not regroup.
US President Donald Trump has been pushing to wind down US forces in Syria.