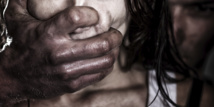 The 48-year-old woman was assaulted in the early hours of Thursday morning when she was walking to her hotel in Palolem village from the railway station.
Police said the suspect, 31, tried to first rob her and chased her into nearby fields where he raped her. He then fled with her luggage and 20,000 rupees (285 dollars) in cash.
Police inspector Rajendra Prabhu Desai said the man was arrested at his hotel room a couple of hours after the crime.
"The woman's debit card and other documents including passport were found in his possession. Upon interrogation, he confessed he had assaulted the woman," Desai said.
The tiny resort state of Goa is among India's most popular destinations for international tourists but authorities are worried that such crimes might hurt its image.
In 2017, 28-year-old Danielle McLaughlin, an Irish tourist, was raped and strangled in the same region of Goa.
In 2008, British teenager Scarlett Keeling was murdered and her body was found on Anjuna beach. Two men accused of the rape and homicide were cleared in 2016.
Notepad