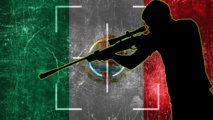 Judge Uriel Villegas and his wife were killed in a shooting attack inside their home in Colima, some 700 kilometres west of Mexico City.
Two young daughters and a domestic worker survived the attack, in which about 20 shots were fired, according to local media.
Ortiz was in charge of matters related to the son of a key Mexican drug trafficker, Jalisco Nueva Generacion Cartel leader Nemesio Oseguera Cervantes, also known as "El Mencho."
The son - Ruben Oseguera Gonzalez, also known as "El Menchito" - was extradited to the United States earlier this year.
The district judge, who was in his 40s, had been a judge in Colima for just over four months. His work included drug trafficking cases and other organized crime.
Colima and Jalisco are both strongholds of the cartel.
Tuesday's attack was strongly condemned by the President of the Supreme Court of Justice, Arturo Zaldivar, and the Minister of the Interior, Olga Sanchez Cordero.
Cordero urged the authorities to investigate.
In the wake of the murders, the judiciary said security for judges and their families would be stepped up.