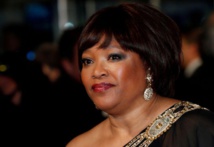 "Zindzi will not only be remembered as a daughter of our struggle heroes, Tata Nelson and Mama Winnie Mandela, but as a struggle heroine in her own right. She served South Africa well," Pandor said.
The 59-year-old, who was the younger daughter of Nelson Mandela and his second wife Winnie Madikizela-Mandela, died on Sunday evening in a Johannesburg hospital, according to state broadcaster SABC.
The details surrounding her death are not yet known, but a statement is expected to be released in due course.
Mandela was South Africa's ambassador to Denmark at the time of her death.
A spokesperson for the ruling African National Congress (ANC), the political party which Nelson Mandela led and which won the country's first democratic elections in 1994, expressed condolences on SABC.
"Zindzi was part of the ANC when we were fighting for the liberation of our people," spokesperson Pule Mabe said.
Zindzi and her older sister Zenani grew up without their father, who was incarcerated for 27 years for his stance against the racist apartheid regime ruing South Africa.
She became known for her defiance and youth activism and famously read out one of her father's speeches in 1985 because he was unable to.
She remained outspoken on various social, political and economic issues in South Africa.