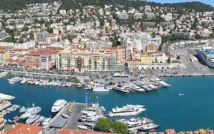 "There is a lack of conscience that is frankly intolerable," Estrosi told LCI television on the fourth day of a ban on all but essential outings across France.
Any other public places in the city "that we assess can end up as places for strolling about or meeting family members" would also be closed, he warned.
The number of new coronavirus cases in France has continued to mount sharply, and stood at 10,995 confirmed infections and 372 deaths as of Thursday afternoon.
The lockdown, which President Emmanuel Macron announced on Monday for a minimum of 15 days, would probably have to be extended, government spokeswoman Sibeth Ndiaye said.
"The virus has a maximum incubation period of 14 days and we know that, looking at what has happened in other countries, that we will have begun to slow down the number of new cases," Ndiaye told BFMTV television. "So this chain of transmission really has to be broken."
In neighbouring Italy, at grips with Europe's worst coronavirus outbreak, Prime Minister Giuseppe Conte has also warned of a likely extension of the country's lockdown beyond the initial end date of April 3.
Ndiaye too warned that the crackdown on those violating the lockdown might have to be toughened.
"We get the impression that it will be necessary, at least, to toughen the application of penalties," she said.