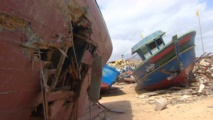 "We will do all we can to shed light on these episodes of intolerance that don't do justice to the solidarity of the people of Lampedusa and which could seriously damage tourism, the island's source of wealth," the agency cited Agrigento prosecutor Salvatore Vella as saying.
The agency reported that fires were started on Friday night in two separate locations where old boats used by illegal migrants to reach the island's shores are kept.
Lampedusa Mayor Salvatore 'Toto' Martello said the fires were part of a "precise plan to feed a climate of tension and feed the flames of an already difficult situation on our island."
According to ANSA, the mayor also recalled an episode earlier in the week in which unknown individuals covered a monument to the island's welcoming spirit with plastic bags and adhesive tape.
"These are people who are not improvising but know what they are doing," he was cited as saying. "I don't know who they are or I would have reported them already."
Lampedusa, a small island that is roughly halfway between Sicily and Tunisia, is often the first port of call for Europe-bound migrants from North Africa.
Notepad