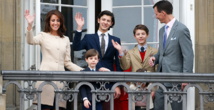 "It is the doctors' assessment that Prince Joachim will not have any physical effects or other injuries as a result of the blood clot," the palace said.
The operation took place early Saturday at the University Hospital of Toulouse.
"The blood clot in the brain was due to a sudden dissection of an artery, and the hospital's medical team assesses that the risk of recurrence is very small when the artery has healed," the statement read.
"Prince Joachim is expected to be moved out of the intensive care unit as soon as possible but will continue to be hospitalized for some time to come," the palace said.
The prince moved to France last year with his French-born wife Princess Marie and their two children after he was invited to attend France's highest ranking military leadership training course at the Ecole Militaire defence college in Paris.
He graduated last month.
Earlier in June, the prince was appointed military attache at the Danish embassy in Paris. He was set to begin his three-year appointment in September.
Joachim is sixth in line to the throne, following his older brother, Crown Prince Frederik, and Frederik's four children.
Last week, Joachim and other members of his family were at the queen's estate, Chateau de Cayx, in Cahors, southern France.
They celebrated the 18th birthday of Prince Felix, one of Joachim's two sons from his previous marriage to Countess Alexandra.