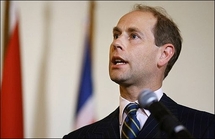 Charities complained, and the Royal Society for the Protection of Cruelty to Animals (RSPCA) opened an investigation into whether he could be prosecuted.
But on Friday the RSPCA announced it had "closed its investigation as there was insufficient evidence to support the allegation that Prince Edward beat his dog."
A Buckingham Palace spokeswoman welcomed the outcome, but declined to comment further.
The dogs were said to fighting over a dead pheasant during a shooting outing at Queen Elizabeth's private Sandringham estate in Norfolk, in the east of England, where the royals traditionally spend their winter break.
At the time a palace spokesman said: "He broke up the fight with the dogs and pictures show him waving his stick around. We cannot confirm, however, whether he struck the dog."
--------------------------------------
Image of Britain's Prince Edward, seen here in June 2008, speaks during the repatriating ceremony of the collection of Sir Samuel Steele, by Ben Stansall.