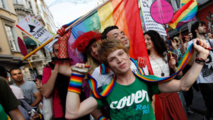 Putin has submitted a proposal for an amendment to state that marriage is between "a man and a woman," the lower house of parliament's vice speaker, Pyotr Tolstoy, was quoted as saying.
"I am glad that this amendment has been initiated by the head of state," Tolstoy said in comments carried by state news agency TASS.
Another proposed change to the constitution would be to include a mention of faith in God, the lower house of parliament's speaker, Vyacheslav Volodin, said in separate comments.
Public promotion of homosexuality is a crime in Russia under federal legislation signed into law by Putin in 2013.
Putin vowed last month that Russia would not legalize same-sex marriage as long as he is president.
"While I am president, it will not happen," Putin told a meeting while discussing possible amendments to the constitution.
Putin, 67, has been in power as president or prime minister for two decades, with his current term set to end in 2024. He is the longest-serving Russian or Soviet leader since Joseph Stalin.
Some of the amendments under consideration could enable Putin to retain authority after his term ends, as prime minister with expanded power, a lifetime senator or head of the advisory State Council.