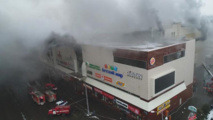 The mall, which featured a vast entertainment centre including a petting zone, bowling and cinema, was crowded with children, and dozens were still unaccounted for on Tuesday.
A local group comprising victims' relatives believes that 41 children died because of the fire, the Interfax news agency reported.
Speculation was rife on social media, where users claimed the actual number of dead could be as high as 250 to 300.
Protesters gathered on a main square in central Kemerovo and called for the resignation of the eponymous region's governor, Aman Tuleyev, Interfax reported.
Riot police and members of the national guard were dispatched to the scene to maintain order.
Tuleyev, who has been governor for more than two decades, did not appear at the protest. A deputy governor, Sergei Tsivilev, stood on a bended knee before the crowd in an expression of atonement.
"I ask for forgiveness from those who have fallen into this complicated situation and I want to kneel before you," he said before performing the gesture, Interfax reported.
Meanwhile, Russian President Vladimir Putin visited a spontaneous memorial for the victims at the mall, where local residents have been placing flowers, candles and toys.
Putin placed a bouquet of red roses and pledged a thorough investigation into the disaster.
"All officials will be checked, starting with those who registered the building," Putin said in comments carried by state news agency TASS.
Poor building materials such as cheap plastics have been blamed for enabling the fire to spread quickly. The remainder of the mall, which was five years old, will now be torn down.
"Who gave the permission for using such materials? They are flammable," Putin said. He signed a decree to declare Wednesday a national day of mourning.
Federal investigators have said that emergency exits were blocked and a security guard turned off the fire alarm.
Several other people have been detained for questioning, including the lessee of the premises where the blaze is believed to have originated and the head of the company that manages the mall.
The blaze is believed to have begun near the cinema on the fourth floor.
A surveillance video showed the blaze erupt in an entertainment area, with a billowing cloud of black smoke filling the large room within seconds. Adults rushed to gather the many children in the area and evacuate.