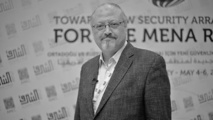 As per instructions by King Salman, Saudi "prosecutors started investigations in the case to reach all truths and present all defendants to justice and sentence those proven guilty of this crime," al-Aiban added.
Khashoggi, a journalist and critic of the Saudi rulers, was killed on October 2 after entering Saudi Arabia's consulate in Istanbul to get the paperwork needed to marry his Turkish fiancée, who was waiting outside.
His remains have not been located. There is also no confirmation on who ordered the killing.
Istanbul's chief prosecutor said last week Khashoggi was strangled upon entering the consulate and then dismembered and disposed of in a premeditated operation.
After weeks of denials and under growing international pressure, Saudi Arabia finally admitted that Khashoggi was killed in the consulate, adding that there are 18 suspects under investigations in Riyadh.