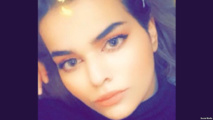 "The Saudi embassy also told us she ran away from home. So from all this information, we had to deny her entry to the country," Choengron said.
Al-Qunun said on Twitter that her passport had been seized by a representative of the Saudi embassy in Bangkok. The embassy would neither deny nor confirm al-Qunun's claim when reached by dpa.
Al-Qunun, who is staying in a Bangkok airport hotel, said she has a visa for Australia and that she wants to seek asylum there.
"I am not leaving my hotel room until I see UNHCR. I want asylum," she said in a video posted on Twitter on Monday, referring to the UN Refugee Agency.
"Kuwait airlines and Saudi embassy work together!! They took my passport," al-Qunun tweeted.
Al-Qunun created the Twitter account at the weekend and had gained more than 36,000 followers by mid-day on Monday.
Al-Qunun told Human Rights Watch that she fears for her safety if forcibly returned to Saudi Arabia.
She claims she was beaten and threatened to be killed by her male relatives, who she says kept her in her room for six months for cutting her hair.
Al-Qunun fled while her family was visiting Kuwait, which unlike Saudi Arabia does not require a male relative's approval for an adult woman to depart the country, according to the rights group.
"Saudi women fleeing their families can face severe violence from relatives, deprivation of liberty, and other serious harm if returned against their will," HRW's deputy Middle East director Michael Page said.
"Thai authorities should immediately halt any deportation, and either allow her to continue her travel to Australia or permit her to remain in Thailand to seek protection as a refugee," he added.
It was not immediately clear when al-Qunun will be deported back on a Kuwait Airlines flight, but the Thai immigration official said she did not board flight KU412 departing Bangkok at 11:15am (GMT 0415).
The next Kuwait Airlines flight from Bangkok to Kuwait is scheduled to depart at 11:50pm on Monday.
Thailand does not recognize the status of refugees and asylum seekers, who are generally treated as illegal immigrants and incarcerated. The South-East Asian country usually sends them back to face persecution at home.
Most recently, a Bahraini football player granted refugee status in Australia was arrested at the same airport in late November upon request by the Bahraini authorities. He is currently being held in a Thai prison awaiting trial.
Notepad