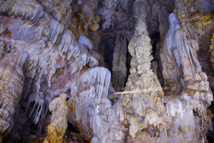 A group of six Australian Federal Police officers arrived at Tham Luang-Khun Nam Nang Non Cave early Sunday.
"We're here to support the Thai government in its operation," said Cameron Noble from Australia's Department of Foreign Affairs and Trade.
"They [the police officers] have cave diving experience."
The Australian team has joined forces with earlier arrivals of five Chinese hikers, up to 32 US forces personnel, three British divers and a British cave expert as well as rescue teams from Myanmar and Laos.
As the clock is ticking, the operation has intensified with ongoing diving in the cave and a search for new cave entrances on foot and by helicopters and drones.
As the search entered its ninth day, rescuers still had no idea of the whereabouts of the missing group - a dozen boys aged 11-16 and their 25-year-old coach.
Last Saturday, the missing football team visited the cave after a training session. They have not been seen since, leaving only their bicycles behind at the cave entrance. A flash flood blocked their way out.
Continued rain and subsequent flooding in the cave has hampered rescue efforts, as diving was suspended for most of the week to drain floodwater out so divers can have enough oxygen inside the cave.
The cave is 1,000 kilometres north of Bangkok near the border with Myanmar.
Parents of the missing boys have camped outside the cave since their children went missing to await their return. A Buddhist monk has led a daily prayer vigil to keep them calm.