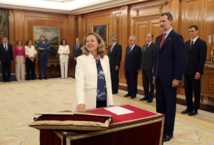 For the first time in the history of Spain, women have a majority in the new cabinet: Sanchez appointed 11 women and 6 men to the top posts. Carmen Calvo - who served as culture minister in the socialist government of Jose Luis Rodriguez Zapatero - has been named deputy premier and also takes the helm of the new Ministry for Equal Rights.
Sanchez's predecessor, Mariano Rajoy, was ousted on Friday in a vote of no-confidence that was triggered by a scandal involving Rajoy's centre-right People's Party (PP). Sanchez was sworn in the following day.
The new line-up was criticized by the leftist Unidos Podemos group, whose members were left out of the cabinet. The no-confidence vote that ousted Rajoy was supported not only by Sanchez's socialist PSOE party, but also by Podemos and several regional parties, and the leftists had hoped to receive several posts in the new government.
"We do not guarantee our support," Podemos spokeswoman Noelia Vera said.
Sanchez nominated close allies from the PSOE and unaffiliated experts into his cabinet. These included astronaut Pedro Duque as economy minister and journalist Maxim Huerta as minister of culture and sport.
It remained unclear whether Sanchez plans to govern through until the end of the legislative period in 2020. He previously said he intended to call for new elections in the foreseeable future. The premier's PSOE party retains only 84 seats in the 350-member parliament.