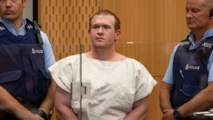 Australian citizen Brenton Tarrant, 29, pleaded guilty in March to 51 charges of murder, 40 of attempted murder and one charge of terrorism.
Mirwais Waziri, who was wounded in the the Al Noor Mosque attack, went off-script, deciding not to read his pre-prepared victim impact statement and instead addressing Tarrant directly.
He said that he used to be labelled a "terrorist" because he was from Afghanistan.
"You took that name from me," he told Tarrant to applause from other survivors present in the court.
"We as Muslims are not terrorists... You are the loser. We are the winners. You proved to the world, you are the terrorist." Waziri said.
The court expects to hear from 14 more victims and family members on Wednesday.
Tarrant, who has chosen to represent himself, may also address the court.
Justice Cameron Mander has previously said he will not deliver a verdict before Thursday.
Tarrant live streamed the deadly attacks of March 15, 2019 on social media. Four days after the massacre, New Zealand's chief censor classified the clip as "objectionable," making its broadcast or sharing illegal.
Earlier on Tuesday, Kyron Gosse made an impassioned plea to Mander during his victim impact statement.
His aunt, Linda Armstrong, was one of seven people killed at the Linwood Islamic Centre, the second target of the attacks.
Gosse said he innocently watched the gunman's video of the attacks, not knowing what it contained.
"Those images will haunt me for the rest of my life."
In New Zealand, the minimum period of imprisonment for murder is 10 years. However, the court may order that a life sentence for murder be served without the possibility of release.