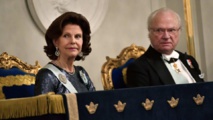 The 74-year-old monarch, speaking on Swedish National Day, said that many in Swedish society had shown "admirable and heroic commitment" during the coronavirus crisis, for which he owed them great thanks.
He also called on them to continue to persevere and said that people should spend the summer time responsibly, as well as wisely.

The king and his wife, Queen Silvia, have been staying at Stenhammar Palace, about 120 kilometres south-west of Stockholm, since March.
While they would occasionally take short trips away from the palace, for the most part they remained on the estate grounds.
The royal house had earlier announced that the royal couple would temporarily return to Stockholm for Swedish National Day.
Sweden has had more relaxed virus measures than many other countries, which has also meant a relatively higher number of infections and deaths per resident compared to the rest of Europe.