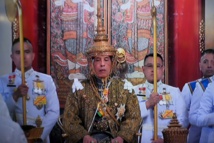 "I will carry on, preserve and extend, and forever reign with righteousness for the benefit of the people," the king said with his first royal command, similar to the oath his late father king Bhumibol Adulyadej gave almost seven decades ago.
He first underwent a purification bath, in which holy water was poured over his head through a canopy as a gesture to offer him sovereignty, while a fanfare of traditional Thai music was played and a gun salute fired in the background.
The king was then anointed with water collected from more than 100 sources across the country, before being presented with the consecrated king's symbol of a nine-tiered white umbrella.
The elaborate ceremonies estimated to cost up to 31 million dollars are a blend of Buddhist and Hindu rites, in accordance with Thailand's Buddhist traditions and a belief that Thai kings are reincarnations of Vishnu, a Hindu god.
Saturday's bathing rite and anointment were considered to be the heart of the coronation, instead of the bestowal of the crown which was later adopted according to European traditions.
Thais have been encouraged to wear yellow shirts, the colour associated with royalism, since the beginning of April to mark the occasion.
At least 150,000 people from all over the country were expected to greet their newly crowned king, first during a seven-kilometre parade around old Bangkok on Sunday, then near the Grand Palace where the king will appear on the balcony on Monday.
A loyal 48-year-old man walked 640 kilometres overnight on Friday from the southern province of Surat Thani to the capital to join the celebration, local TV station TNN24 reported.
On the eve of the coronation, the king also granted royal pardons to approximately 50,000 inmates across the country including prominent student activist Jatupat Boonpattararaksa who was accused of defaming the king by sharing a controversial BBC article, according to local news website Khaosod English.
Notepad