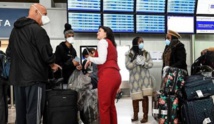 Smaller protests also took place in other Slovenian cities including Maribor, Celje and Koper, the STA reported on Saturday.
In Ljubljana, demonstrators cycled to the parliamentary building and voiced their discontent by ringing their bells. Some used cow bells to create noise.
The Slovenian government imposed a series of restrictions in mid-March that are gradually being lifted. However, a ban on gatherings and protests remains in place.
Friday's protest was also an expression of discontent with alleged corruption in the right-wing nationalist government of Prime Minister Janez Jansa.
According to recent media reports, Slovenia's government procurement agency bought anti-coronavirus products from abroad via a Slovenian distributor.
The distributor, which has links to people close to the government, is suspected of cashing in on the deal by charging extra fees.