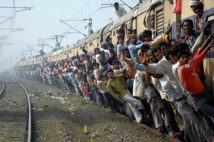 Hundreds of thousands of daily-wage earners were stranded in Indian cities with no means of income after India went into lockdown on March 25 to check the spread of coronavirus.
The main opposition Indian National Congress offered to pay the fares, with tickets costing around 700 rupees or (10 dollars).
Party president Sonia Gandhi questioned why migrants were asked to pay fares when the government had made arrangements to fly back citizens stranded in other countries free of cost.
She said the government gave a mere four-hour notice of the lockdown, so migrants were denied the opportunity to return home.
Soon after, Congress-ruled states, Mahrashtra and Chhattisgarh, said they would pay the fare for migrants using special trains.
Sambit Patra, spokesperson for the ruling Bharatiya Janata Party, refuted the allegations, asserting that tickets were not being sold. The government was subsidizing 85 per cent of the train journey and it was up to states to bear the remaining cost of the ticket, he said.
The government was already bearing the cost of running trains half empty to ensure social-distancing, official sources told broadcaster NDTV.
India began running special trains from Friday so migrants could travel to their home states as the lockdown was extended by two weeks.
Restrictions have been eased across many regions, with private offices and construction activity allowed in limited capacity even in red zones or infection hotspots, like the national capital, New Delhi.
Notepad