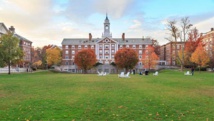 Conservatives have long complained about the suppression of their views on campuses, but the issue has worsened in recent years. Conservative student activists have said there has been a spike in opposition since Trump was elected.
Earlier this month, Trump announced his plans to link the free speech issue to federal funding as he highlighted an incident at the University of California at Berkeley in which a conservative student activist was punched in the face.
Trump said universities have tried to "restrict free thought, impose total conformity and and shut down the voices of great young Americans like those here today. All of that changes starting right now."
Under the executive order, public colleges and universities will have to certify that they are complying with the First Amendment of the US Constitution, which protects freedom of speech. If they don't, they may not qualify for federal research money.
"Universities that want taxpayer dollars should promote free speech, not silence free speech," Trump said.
Many US campuses have struggled with guest appearances by outspoken public figures whose view may be considered anti-Semitic or hateful toward minorities. Some have cancelled the appearances out of security concerns.
Notepad