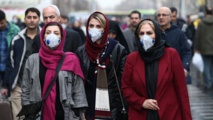 According to the health ministry, schools and universities in several cities have been temporarily closed. Cinemas will remain closed until further notice, and theatre and concert events have been cancelled.
Professional football games will be played as planned but without spectators.
There are 785 suspected cases of coronavirus nationwide, and 28 of those patients have tested positive for Covid-19, Iran's Health Ministry reported. Five patients have died of the disease so far.
New numbers on infections and deaths over the weekend have not yet been reported.
The Health Ministry insists that information from other sources was not reliable. People who spread false information about coronavirus, especially in social media, are threatened with legal consequences.
The spread of coronavirus has created uncertainty in Iran a few weeks before the Persian New Year on March 20. Many people fear that there are far more dead and infected people than reported.
Disinfectants are sold out in almost all drugstores, pharmacies and supermarkets in the capital, Tehran.
Notepad