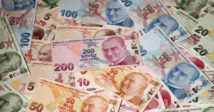 Year-on-year consumer price inflation was 19.71 per cent in March, the Turkish Statistical Institute (TurkStat) said, up from 19.67 per cent in February.
The highest annual increase, at 29.77 per cent, was for food and non-alcoholic beverages
In early March, the central bank left its benchmark interest rate unchanged at 24 per cent, citing a slight decline in inflation.
The state of the economy was a major concern for voters in Sunday's municipal elections. Inflation has been at a 15-year high since June, when it hit 15.39 per cent, and crossed 25 per cent in October.
The economy fell into a recession at the end of last year, according to TurkStat.