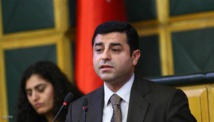 Selahattin Demirtas, the former co-chair of the pro-Kurdish Peoples' Democratic Party (HDP), has been in pre-trial detention since November 2016 on terrorism-related charges.
"We did not expect this," Ramazan Demir, one of Demirtas' lawyers, said of the Ankara court's Friday ruling. "This decision means that the European court decision was denied and ignored."
Demirtas intends to appeal the ruling and take the case to Turkey's highest court, Demir said.
The HDP called Friday's ruling "totally political."
The European Court of Human Rights (ECHR) said on November 20 that Demirtas' initial arrest on charges including terrorism offences had been justifiable, but the repeated extensions of his detention were politically motivated and could not be justified.
Turkish President Recep Tayyip Erdogan had condemned the ECHR and its ruling on Demirtas, saying "we are not bound by it."
Erdogan sees the HDP - a legal political party - as an extension of the outlawed Kurdistan Workers' Party (PKK), which is considered a terrorist organization by Turkey, the United States and the European Union.
Since a failed coup in 2016, Turkey has cracked down on HDP supporters, and Erdogan has previously called Demirtas a "terrorist."