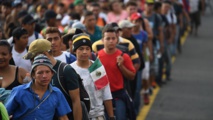 The Customs and Border Protection (CBP) office in San Diego announced the closures in a series of tweets, saying entries and departures at the San Ysidro crossing, one of the largest between San Diego and Tijuana, have been "suspended."
The CBP tweets didn't confirm reports that migrants had pushed through a blockade. The CBP deployed additional personnel to the border crossing on Sunday after the incident, according to CNN.
The CBP said in a news release on Saturday that agents at a different border crossing near Yuma, Arizona, had rocks thrown at them when they tried to arrest a subject who claimed to have been part of a migrant caravan.
More than 4,700 Central American migrants who travelled across Mexico in such a caravan currently are waiting in a stadium in Tijuana, Mexico.
Most of them say they are fleeing violence and poverty in their home countries and hope for asylum in the US. Thousands more are travelling toward the border with the same aspirations.
The incoming Mexican interior minister denied a report on Saturday that the Mexican government had reached an agreement with the United States on how to handle migrants hoping to claim asylum in the US.
Mexican Interior Minister-designate Olga Sanchez Cordero said "there is no agreement with the US government," according to the newspaper Excelsior.
The Washington Post reported earlier that the US won the support of the incoming Mexican government, which will take office on Saturday, for a policy that would require asylum seekers to remain in Mexico while their claims are processed in US courts.
President Donald Trump referred to such a policy in a series of tweets late Saturday and Sunday in which he restated his opposition to migrants being allowed into the US prior to a court approval of their asylum claims.
He tweet Sunday that it would be "very SMART" if Mexico would stop caravans before they reach the border, or if governments would prevent them from forming, suggesting countries use it as a way to get "certain people" out of their country and "dump" them in the US.
Notepad