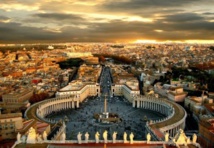 "Some LGBT young people [...] would like to 'benefit from more vicinity' and experience greater care on the part of the Church," the document, called Instrumentum laboris, said.
"Meanwhile, some [national Catholic Churches] are wondering what they can offer to 'young people who instead of forming heterosexual couples, decide to form homosexual couples and, above all, desire to be close to the church,'" it added.
The Vatican document summed up feedback from young Catholics and national churches ahead of a synod - a world summit of bishops - called on October 3-28 to discuss youth and Catholic faith issues.
"Many young Catholics do not follow the Church's guidance on sexual morals. No [national church] offers answers or solutions, but many are of the opinion that 'the issue of sexuality must be discussed more openly and without prejudice,'" it noted.
Pope Francis is generally seen as more liberal than his predecessors on sexual ethics, having said "who am I to judge?" about homosexuals and criticized the church for focusing too much on abortion and contraception.
But Francis did not change fundamental church teaching on such matters, and on Sunday he said the term "family" only applies to heterosexual couples formed by "man and woman in the image of God."
The Instrumentum laboris identified several other issues of concern for young Catholics, including church sex abuse scandals, youth unemployment and social media addiction.