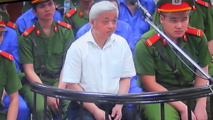 Phan Van Anh Vu, a former real estate magnate in Da Nang, was sentenced to nine years in prison, while Phan Huu Tuan, the former deputy head of the Ministry of Public Security's intelligence department, as well as his subordinate Nguyen Huu Bach, were sentenced to seven and six years in prison respectively, the Hanoi People's Court said.
Vu fled to Singapore in December, but was deported for violating immigration laws and arrested in Hanoi upon his return.
State media later reported that Vu himself may have secretly been a lieutenant colonel in the Ministry of Public Security, although details on the matter have never been officially disclosed.
On Friday, the ruling Communist Party of Vietnam's powerful politburo dismissed Lieutenant General Bui Van Thanh, Deputy Minister of Public Security, from all party positions. Thanh had helped Vu obtain a diplomatic passport prior to his flight to Singapore.
Under party rules, Thanh must be removed from his government posting as well.
The politburo also retroactively dismissed retired Colonel General Tran Viet Tan, a former Deputy Minister of Public Security, from his final official post for helping Vu's business.
Vu was charged over his alleged role in leaking a series of top secret documents. Most of the leaked materials were documents revealing that the ministry asked local authorities to facilitate Vu's real estate dealings through preferential land prices.
While in Singaporean custody, Vu allegedly offered to give evidence to German authorities in the Trinh Xuan Thanh kidnapping case if offered asylum in Germany.
According to German authorities, Thanh, the former chairman of PetroVietnam Construction, a subsidiary of the state oil company PetroVietnam, was kidnapped last July in Berlin by Vietnamese government agents and repatriated to Vietnam.
Earlier this year, he received two life sentences for corruption.
On July 25, a 47-year-old Vietnamese man was sentenced to three years and 10 months in prison by a German court for renting the car used in the kidnapping.
Vietnam denies kidnapping Thanh, saying that he returned to the country on his own accord.