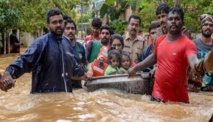 Authorities had almost concluded rescue operations in the worst-hit areas in the state with a let-up in rains over the weekend.
Around 350 people have been killed since the monsoon season began in Kerala in May, with the second more devastating spell of flooding from August 8 claiming 191 lives.
"There are now a total of 1.24 million people in relief camps, up from 1.08 million. Many of them had got back home but returned finding the dwellings uninhabitable and covered with mud," Kerala relief commissioner PH Kurien said by phone.
"Our focus now moves from rescue to providing relief, including the challenge of maintaining such a huge number at camps as well as providing food, clothes and essential items to the flood victims elsewhere," Kurien said.
Police spokesman Raja Shekharan said police, along with local workers, had begun massive clean-up operations at various places.
"Most areas have carcasses of cattle and animals. Homes are filled with mud and slush, with snakes and snails slithering around and need to be cleaned," Shekharan said.
G Sureshan, a resident of Thrissur town, told broadcaster NDTV that the intense rain and flooding caught locals unawares.
"In two days, the floodwaters rose up to 10 feet [3.05 metres], submerging the first floor of our home. We just fled. All we have is the clothes we are in. Our furniture, utensils, electronic gadgets, everything is damaged. It will take months to rebuild our lives," he said.
Food and water had been provided to many among the estimated 6,000 people stranded in their homes even as the floodwaters were receding. Dozens trapped in their homes or on rooftops were also brought to safety by helicopters and boats.
Authorities opened a naval airbase for commercial flights in the state's busiest city of Kochi to help with the operations, civil aviation minister Suresh Prabhu said. The main airport has been closed since last week due to flooding.
Even as the floodwaters were receding in several parts with the rains easing, bigger concerns remain over the lack of clean water and disease in the aftermath of the inundation.
Kerala Chief Minister Pinarayi Vijayan said the floods are the worst seen by the state in a century and estimated the damages to infrastructure and property at nearly 3 billion dollars. He praised fishermen for lending a hand in rescue operations.
The weather bureau has said heavy showers were not expected in the state over the next four days.
Environmental campaigners criticized Kerala's flood management plan, saying it had not been upgraded even though India had seen extreme rain events with flooding reported in cities like Chennai and Srinagar in recent years.
"It is a man-made disaster essentially due to lack of planning for such intensity of rains," Sunita Narain of the New Delhi-based Centre for Science and Environment said.
"Kerala did not have a dam management plan, a lot of destruction was caused since the dams were opened at one time and it exacerbated the flooding."