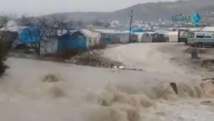 According to Save the Children, heavy rains have led to flash flooding in camps for displaced people.
"Aid workers on the ground say conditions are miserable and dangerous for the thousands of children living in flimsy tents and half-built buildings with no windows or doors," the group said.
It added that illnesses are increasing and in some areas families are cut off from the outside world.
An increase in violence between armed groups in recent weeks has delayed emergency relief efforts in some areas, including the distribution of tents and blankets to families left without shelter in freezing temperatures, the group added.
For the past 10 days, the countryside of Idlib has witnessed intense fighting between Syria's al-Qaeda branch, Hayat Tahrir al-Sham, and other rival rebel groups.
Almost half the population of 3 million living in the province of Idlib has been displaced at least once.
According to Save the Children "the province is home to one of the densest concentrations of internally displaced people in the world, with 317 displacement camps and shelters."
In the north-eastern province of al-Hassakeh, rains led to the flooding of a camp for displaced Syrians, forcing thousands to be relocated, sources said.