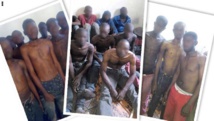 More than 100 people broke out from a secret prison operated by the traffickers near the north-western town of Bani Walid on Wednesday, the Paris-based charity said, and were shot at as their captors attempted to recapture them.
MSF doctors treated 25 survivors at Bani Walid General Hospital, the charity said, adding that some of them had severe gunshot wounds and multiple fractures.
Some of the victims, mostly teenagers from Eritrea, Ethiopia and Somalia who were seeking asylum in Europe, said they had been held captive for as many as three years, the charity said.
They said they had been sold multiple times in the area around Bani Walid and the nearby town of Nesma.
"Many had visible scars, electric burn marks, and old, infected wounds," MSF said.
Libya has been mired in anarchy since the 2011 armed uprising that toppled long-time dictator Moamer Gaddafi. The North African country currently has three different governments as well as countless militias fighting for control.
It has also become a hub for migrants and refugees trying to cross the Mediterranean to Europe, with around 1 million thought to be currently in the country, according to the International Organization for Migration (IOM).
They face often horrific treatment in Libya, where charities say the kidnapping and torture of refugees and migrants to obtain ransoms is widespread.
MSF said that many locals in Bani Walid tried to protect the escapees on Wednesday, including hospital and municipal workers, members of civil society organizations, elders and members of security forces.
The survivors, who told MSF staff that up to 40 people, mostly women, had been left behind in the prison, were initially taken to a secure facility in Bani Walid and on Thursday transferred to a detention centre in Tripoli.
But Christophe Biteau, MSF head of mission in Libya, argued that "arbitrary detention cannot be a solution" saying the victims were "in urgent need of protection and assistance."
MSF also said that the "thriving business" of kidnapping was "boosted" by the European Union's policy of helping Libyan authorities detain migrants trying to cross the Mediterranean and returning them to Libya.
Notepad
Note to editors