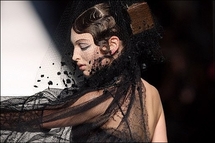 A radiant 50, the aristocratic model who posed for Mariane, the symbol of the French republic on postage stamps, seemed hardly to have changed since she graced the catwalks of Chanel.
French singer Helena Noguerra, more amply proportioned, also had a guest slot in Gaultier's collection inspired by calligraphy, because her curves reminded him of the art of handwriting, "and to prove there is an alternative to anorexic 14-year-olds," he explained.
In stark black and white, Gaultier created elegance and sensuality with lashings of lace, fishnet and embroidery. He gave torero pants a feminine touch with lace trims or cut-outs and veiled skirts and sheaths in fishnet. The silhouette was very 1980s, with squared shoulders.
Gaultier's tuxedos for women felt like a tribute to Yves Saint Laurent, who died in April.
"I've always done them in my own way" but Saint Laurent "was one of my great masters whom I deeply admired," the couturier said after the show which included actresses Catherine Deneuve and Arielle Dombasle and the singer Kylie Minogue among celebrity guests.
Away from the catwalks, Belgium's Martin Margiela and France's Franck Sorbier, who share a passion for recycling, have each come up with their own answers to show their couture collections without the expense of a conventional presentation.
Margiela unveils his designs by appointment on models with their faces covered giving them the anonymity of tailors' dummies.
For next summer, discs were cut out of 1950s vintage silk dresses and then laboriously sewn back on in their exact original position onto transparent chiffon for his "flake" ball dress.
A mini dress was constructed from 140 combs, in tortoiseshell, horn and plastic, mounted on metal chains.
Multi-coloured drinking straws were cut up and applied to a tan leather jacket to form motifs like a tiger, an eagle or a pistol, while 400 shoestrings in nylon and cotton were woven into a long dress.
But the real tour de force found a new use for 29,000 of those irritating plastic tags which need to be scissored off to remove labels from new garments. The resulting graphic black and white jacket, which looked curiously like a Chanel tweed, took 42 hours to assemble.
Sorbier, who had an eleventh hour crisis of funding last season, had the bright idea of hiring a single model to present the entire collection on film.
The result, cheekily titled "Haute couture isn't what it was ...so what?!", was screened in the Balzac cinema off the Champs Elysees on Wednesday.
Leggy blonde Laetizia Venezia-Tarnowska, who was present at the showing, starred in a series of quirky vignettes named after the streets of Paris.
In the Rue du Tresor, she was appropriately wearing a black corset top festooned with old coins, while in the Rue Juliette Dodu, a cafe customer ordered his meal by pointing to the menu inscribed on her satin jacket.
Compressed plastic shopping bags, broken pieces of china, silver cutlery and papier mache made from ancient fashion magazines all had a place in Sorbier's eccentric but charming universe, which also included beautifully crafted and more wearable suggestions.
------------------------------------
Image of a model for model for Jean Paul Gaultier, by Patrick Kovarik.