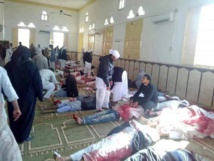 "We will reply to this terrorist act with harsh force against those terrorists," he said in a televised address.
"The Armed Forces and police will retaliate for our martyrs with all force in the coming period," al-Sissi added.
The assault began shortly after noon prayers, when militants detonated explosive devices around al-Rawdah mosque in a town of the same name, located around 40 kilometres west of the city of of al-Arish, a security source and witnesses told dpa by phone.
Militants then opened fire on the worshippers fleeing from the blasts.
Private newspaper al-Masry al-Youm reported that more than 20 masked gunmen were involved in the attack and that they used automatic rifles. Many of the suspects were said to have been later killed in strikes by security forces.
The reported strikes were carried out in a desert area in the vicinity of the site of the massacre, the report said, citing unnamed security officials without further details.
The state declared a three-day period of mourning for the victims.
Pictures showed dozens of bodies covered in blood, lying inside a mosque. Most of their faces were covered with white cloths, while other bodies were wrapped in prayer rugs, as some men and women stayed next to the bodies.
So far, no group has claimed responsibility. Yet militants affiliated with the Islamic State extremist militia have claimed previous attacks, which have mostly targeted security forces and Egypt's Coptic Christian minority.
Extremists have also previously attacked mosques in northern Sinai's Sheikh Zuwayed town.
A security source near al-Rawdah town said the mosque was an easy target because it was outside the main cities of northern Sinai.
He added that the mosque was also targeted because it followed a Sufi sect. Islamist extremists consider Sufis to be infidels.
In 2016, Islamic State militants released pictures purportedly the execution of a 100-year-old Sufi cleric, who was accused of "witchcraft."
Friday's attack drew condemnations from across the world.
US President Donald Trump denounced the massacre as a "horrible and cowardly terrorist attack" by suspected Islamist militants.
The hundreds of people slain were "innocent and defenseless" worshippers, Trump tweeted.
"The world cannot tolerate terrorism, we must defeat them militarily and discredit the extremist ideology that forms the basis of their existence!" he wrote.
NATO Secretary General Jens Stoltenberg called the attack "barbaric," while British Prime Minister Theresa May described it as an "evil and cowardly act."
Turkey, Italy, Saudi Arabia, Kuwait, the United Arab Emirates and Lebanon also condemned the attack.
Egypt has been battling insurgents in North Sinai, where militants intensified attacks targeting security forces since the army's overthrow in 2013 of Islamist president Mohammed Morsi.