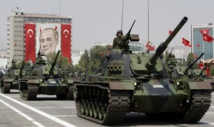 An "accident" took place "during firing of heavy arms" at the base in Hakkari province, Anadolu cited a Defence Ministry statement. It was not immediately clear what exactly caused the explosion.
The 25 soldiers were hospitalized while efforts continued to locate the seven missing in the Semdinli district, Anadolu added.
A local court issued a broadcast ban on the incident, citing public safety, according to Anadolu.
Hakkari is situated on Turkey's border with northern Iraq, where the banned Kurdistan Workers' Party (PKK) is headquartered. The Turkish military has been battling with the group, which Ankara deems a terrorist organization, since the collapse of a ceasefire agreement in the summer of 2015.