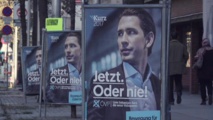 "I hope for a good result, which would make real change possible in Austria," 31-year-old foreign minister Kurz told reporters at his polling station in Vienna.
The decade-long coalition between Chancellor Christian Kern's Social Democratic Party (SPOe) and Kurz's People's Party (OeVP) broke down in May because of increasing divisions between the two centrist parties.
According to voter surveys, Kurz is the frontrunner on Sunday, thanks to his plans to curb immigration by refugees and by workers from poorer eastern EU countries.
If he wins, he could become Europe's youngest head of government.
Kurz's positions are quite similar to the opposition Freedom Party (FPOe), led by Heinz-Christian Strache. The populist far-right movement has been working to shed its radical image to position itself as a coalition partner in the next government.
Chancellor Kern has struggled to promote his plans to boost the economy during his campaign, and he was also hurt by revelations that he had hired an Israeli spin doctor who operated fake websites to discredit Kurz.
Polls suggest that the FPOe and the SPOe are vying for second place in the election, but Kern maintained on Sunday that he was "full of optimism."
"Our campaign has picked up pace in the past few days," he told reporters after having cast his vote in Vienna.
Some 6.4 million voters of the small, wealthy EU country are eligible to cast their ballots. Surveys show that voters hold migration to be the most important election issue; some 130,000 asylum seekers applied for protection in Austria in 2015 and 2016.