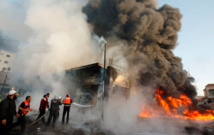 The Britain-based Syrian Observatory for Human Rights said 30 people were also wounded in the attacks.
The watchdog said that the attackers, who were believed to members of the Islamic State terrorist group, hit several areas inside the city including a market.
Locals residents told dpa the blasts could be felt throughout the city.
Syrian state news agency SANA said one suicide attacker blew himself up in the market area of the city, causing an unspecified number of casualties.
Security personnel then chased at least two other suicide attackers and killed them before they could blow themselves up, according to SANA.
The Observatory said the suicide attacks coincided with fighting since dawn between regime forces and IS militants in the countryside north-east of the city, where the militants managed to take control of three villages.
Syrian state television also confirmed that IS militants attacked villages north-east of Sweida, killing and wounding a number of people.
The Syrian government forces and their allies have been launching air and ground attacks since last week on posts manned by the militant group Khaled Bin Al Waleed, which is affiliated with the Islamic State group in southern Syria.