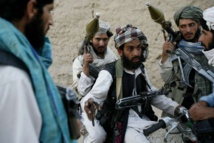 The civilians were at a wedding party. There were diverging accounts of the number of casualties and of the circumstances of the incident.

Helmand province MPs Mohammad Zafar Sadeqi and Ghulam Wali Afghan said 15 civilians were killed, while provincial councilor Majid Akhundzada put the number at 40. He said that, at the time of bombardment, no Taliban were in the area.

A spokesman for US forces in Afghanistan, Josh T. Jacques, said Afghan and US forces had jointly targeted Al-Qaeda fighters in Helmand province. However, Jacques did not acknowledge that any civilians were killed in the operation.

The Afghan Ministry of Defence said the operation had targeted Taliban in the area, killing 22 of them.

The provincial governor's spokesman, Omar Zwak, said an airstrike had targeted the weapons depot, which exploded, killing civilians.

The incident happened in the district of Musa Qala, which has been under Taliban control for eight years, officials said.

Based on the latest report of the United Nations' Assistance Mission in Afghanistan (UNAMA), 3,812 civilians were killed and injured in the first six months of this year.