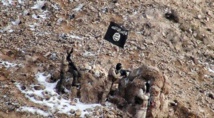 The Syrian Observatory for Human Rights said the clashes pitted the Saudi-backed rebel faction Jaish al-Islam (Army of Islam) against Fateh al-Sham, Al-Qaeda's former branch in Syria, and Faylaq al-Rahman, which is backed by Qatar and Turkey.
"There were at least 15 dead among the ranks of Jaish al-Islam and 23 among its adversaries" as well as two civilians, the Britain-based Observatory said.
Another 70 were wounded.
Jaish al-Islam said its opponents had provoked the clashes by harassing reinforcements headed for Qabun, east of the Syrian capital, a front with regime forces.
Faylaq al-Rahman denied the allegation.
In May 2016, more than 300 people were killed in a battle between the two sides.