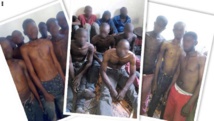 Two hundred and thirty-six children were among those rescued, a statement released Thursday by the international policing body said.
The 40 suspected traffickers will now face prosecution for offences including human trafficking, forced labour and child exploitation, the statement added.
The raids were part of Operation Epervier, which was carried out under the aegis of a project targeting human trafficking gangs across Africa's Sahel region. The initiative is funded by the German Foreign Office.
The Interpol statement named one example of a 16-year-old girl who was promised work in Mali but then forced into prostitution to pay for her travel costs.
The UN-affiliated International Office for Migration and several non-governmental organizations assisted the operation and provided counselling to those who had been rescued.