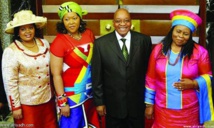 The suspects are accused of money laundering and fraud through a company, Estina, owned by the Gupta family.
Estina took over the management of a small-scale dairy farm in South Africa's Free State province, which over time received payments totalling 220 million rands (18.6 million dollars) from the provincial agriculture department, without a tender.
The money had been allocated to support poverty-stricken farmers. A high court in January ordered the freezing of all assets linked to the farm.
The suspects include Gupta nephew Varun Gupta, current and former government officials as well as chief executives of two other large Gupta firms. They were released on bail of between 850 dollars and 17,000 dollars.
The case of the eighth accused, the dairy farm's director, was postponed to February 19, while the entire case is scheduled to be heard on August 17.
Thursday's court appearance comes a day after a special crime unit issued 13 arrest warrants in connection with the case.
Police arrested eight suspects when they raided the homes and business premises of the Gupta family, who allegedly "captured the state" together with Zuma, through lucrative business deals and possibly even influencing ministerial appointments.
Two suspects remained on the run in South Africa, said Police Minister Fikile Mbalula, while "three (two of Indian nativity and one of Chinese nativity) are believed to be outside of the republic."
Police later confirmed to local journalists that one of those wanted was Ajay Gupta, one of the brothers particularly close to Zuma.
The Times of India newspaper meanwhile reported on Thursday that brothers Ajay and Atul Gupta have been spotted in northern India.
The brothers on Tuesday attended a Hindu festival in their native city of Saharanpur, according to the report.
"Ajay and Atul were here on Tuesday, but left on the same day. I am not aware of their whereabouts now," the report quoted their cousin Pradip Agarwal as saying.