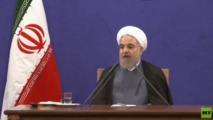 The large shipments of gold and cash, from oil funds unfrozen in numerous countries, represent the kind of financial relief that made Iran's leaders eager to complete the international nuclear accord. Some of the cash and gold went to Iran while the U.S. and other world powers negotiated with Tehran on a
final nuclear deal
. More shipments took place after final deal went into effect last January.
This tallying of the sanctions relief to date includes payments previously announced and others that haven't been. In one previously unreported payment, the U.S. authorized Iran to receive $1.4 billion in sanctions relief between when the final deal was struck in July 2015 and when it took effect, according to the U.S. officials. Some U.S. lawmakers and Middle East allies contend that the shipments of cash and gold, a highly liquid form of money, can be used to fund Iran's allies in the region, including the Assad regime in Syria, the Lebanese militia Hezbollah and the Houthi political movement in Yemen.
"Forking over cash and gold to the world's leading state sponsor of terror is incredibly dangerous," said Rep. Ed Royce (R., Calif.), chairman of the House Foreign Affairs Committee, who sponsored a House-passed bill to ban such payments.
Iran denies that it sponsors terrorism. It has complained that the sanctions-relief funds it is owed are coming too slowly. A spokesman for the Iranian government didn't respond to a request for comment.
In exchange for mothballing its nuclear program, Tehran has been entitled to nearly $115 billion in sanctions relief over the past three years. It has struggled to access much of its money through more traditional financial channels, such as transfers through foreign banks that once were off limits. The U.S. Treasury Department has long scrutinized large cash payments because of concerns they could be used by criminal gangs, narcotics traffickers or terrorist organizations. International sanctions, however, have long restricted Iran's access to global financial and banking systems, making other forms of payments necessary.
World powers began easing sanctions against Iran in January 2014 after the preliminary accord went into effect. Negotiators agreed to allow Iran monthly payments of $700 million, to continue until a final deal was reached. Tehran recouped a total of $11.9 billion between January 2014 and July 2015.
The U.S. authorized Iran to receive another $1.4 billion between when the final deal was reached and when it took effect. One senior administration official described that money, which hasn't previously been reported, as a bridge to the deal's full implementation.
The $10 billion of cash and gold was moved through third-party countries in the Middle East and Europe, according to the U.S. officials. The process began with countries such as Japan, India and South Korea unfreezing Iranian oil revenues held in international bank accounts, then wiring the funds to banks in Oman and United Arab Emirates, and at times to institutions in Switzerland and Turkey, the officials said.
The money then was converted to currency and bars of gold, the officials said. The only restriction the White House put on the transactions was that the cash couldn't include U.S. dollars.
To enable the flow of the $700 million monthly payments, the White House signed a series of legal waivers authorizing countries to unfreeze Iranian oil revenues, the officials said. Without the waivers, those countries in many cases would have been in violation of U.S. secondary sanctions.
Other sums were kept in foreign banks, and portions less than $20 million often were wired through small Iranian banks that weren't sanctioned, or were moved by institutions that handle transfers such as family remittance payments, the officials said.
Countries with frozen Iranian oil money included China, Japan, Italy, Greece and South Korea.
The U.S. officials said Iran wanted gold and cash largely for two reasons: to have quick access to its funds and because of complications in wiring money to Tehran. The officials said a final deal might not have been possible if they hadn't found ways to get Iran some of the monthly $700 million payments during the 18 months of negotiations.
U.S. officials estimate that roughly half of the $100 billion Iran is entitled to receive under the final deal already is committed to debts Iran has had to pay to other countries, including China.
The $10 billion in gold and cash Iran already has received doesn't include a separate $1.7 billion in cash the White House helped airlift to Iran early this year to settle a
decades-old legal dispute over a failed arms deal
. That exchange coincided with the Iran's
release of four U.S. citizens
imprisoned in the country.
Obama administration officials said that, unlike that $1.7 billion, the U.S. wasn't directly involved in facilitating the transfer of the $10 billion in cash and gold to Iran.
"If they wanted to convert the oil revenues into cash, they had to do it by themselves," a senior administration official said. "The U.S. played no direct role."
---------------------------
Wall Street Journal