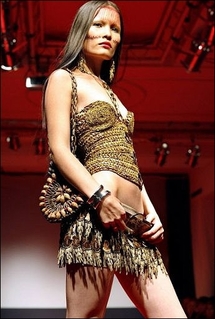 "A consumer revolution is afoot, beginning even before the crisis," trendspotter Martine Leherpeur said this week at a top fashion trade fair, Paris Pret-A-Porter.
"Bling-bling is on the wane, people now want sustainable quality products that last for more than six months," she told AFP. "And a key concern for today's consumers is the origin of a product, to know where it was made and exactly how."
There is little question that ethical fashion -- involving fair trade practices as well as recycled and organic products -- still remains a niche phenomenon. Of the 1,100-odd designers and labels attending the Paris fair, only 60 carried the ethical label.
But there is little question also that the demand for sustainable ethical garb is on the up and up. At the same fair only three years ago, no more than 20 labels from across the globe flew the eco-friendly flag of ethical correctness.
Veteran green-friendly British company Komodo, set up two decades ago by a backpacker with a love for Asia and a taste for fabrics, now turns over a couple of million euros a year with clothes spun and stitched by 500 people in Kathmandhu and 300 in Bali.
"There is a growing eco-business out there countering the unstoppable flow of mass-produced cheap-and-nasty stuff from places like China," said Joe Komodo. "We keep cottage industries alive, our people use scissors."
And a French maker of fine though expensive cashmeres, who can vouch for the living conditions of the original goat, the length and quality of the fibre, and dyes that have little impact on the environment, has seen business boom over the last two years.
"There is a growing ethical consciousness, women want quality and want to know the origin of what they buy," said Lara Bruneau-Laure, of La Fee Parisienne.
Her "sustainable" sweaters vary from 300 to 1,000 euros a shot, a far cry from the cheaper cashmeres imported from Asia, yet they sell. "People are buying less but buying better," she said.
The global crisis had put the accent on quality rather than quantity as well as bolstering a trend towards responsible buying of ethical fairtrade products, said the head of economic research at the French Institute of Fashion.
"Consumers are going for fashion items that are unique and different and for sustainable pieces made of fine fabrics," said Evelyne Chaballier. "It's as if slow fashion and fast fashion were hand-in-hand."
Handmade pieces as well as natural fabrics are among the big winners of Slow Wear, with big thick woolly numbers on a comeback for autumn/winter 2009/2010 in what some trendwatchers are calling a taste for "covering" during the cold of the crisis.
And special guest artist at the Paris fair this week was none other than a hand-knitter from Tokyo, Tomoko Toki, who with a pair of needles and lots of yarn knits anything from bags to rings to giant lampshades.
"We have so many machine-made products that now handmade is popular," said the founder of Mokely Knitting Installation. "We're sick of the digital age."
------------------------------------------
Image of a model presenting a creation of Colombian designer John Estradada during a couture runway as part of the 3rd edition of the Paris' Ethical Fashion Show, in 2006 in Paris, from AFP.