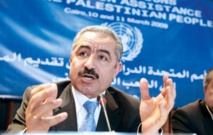 His resignation came following the failure of reconciliation talks between Abbas' Fatah party and the radical Islamist Hamas movement.
The new government officially marks the end of the stalled reconciliation efforts between Fatah and Hamas.
The government comprises solely Palestine Liberation Organization (PLO) factions, primarily Fatah, and excludes the Hamas and Islamic Jihad groups.
Radical leftist secular factions of the PLO, such as the Popular Front for the Liberation of Palestine and the Democratic Front for the Liberation of Palestine, have boycotted the new government, arguing that it will increase division among Palestinians.
Five ministers from the last government have retained their positions, including Foreign Minister Riyad al-Malki, Finance Minister Shukri Bishara, Information Minister Nabil Abu Rudeineh, Tourism Minister Rola Maayaa and Deputy Prime Minister Ziad Abu Amr.
The other 17 ministers did not sit in the last government.
Nobody was entrusted with the posts of interior minister or religious affairs minister, which Shtayyeh will hold until they are filled.
As in the previous government, only three of the ministers are female.
A March 10 letter written by Abbas designating Shtayyeh to form the government said its aims would include unifying the country and holding legislative elections in the West Bank, Jerusalem and Gaza. Abbas made no reference to presidential elections, which Hamas has been calling for.
A public opinion poll by the Palestinian Centre for Policy and Survey Research (PSR) in March found that 72 per cent of Palestinians in the West Bank and Gaza want simultaneous presidential and legislative elections to be held in the West Bank and Gaza.
Abbas, 83, has served as president since 2005. A president's term is supposed to last four years.