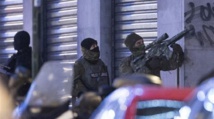 The 24-year-old Tunisian, Sofien Ayari, has been charged in relation to the Brussels attacks with "participation in the activities of a terrorist organization," the Belgian federal prosecutor's office said in a statement issued Friday.
On March 22, 2016, three men detonated suicide bombs in Brussels' international airport and an underground train in the capital, killing 32 people.
Days earlier, a police raid on an apartment in a Brussels suburb led to a shootout in which one terrorism suspect was killed and several police officers were injured.
Sofien A and Abdeslam, who both fled the apartment, were sentenced to 20 years each in prison last month over the incident.
Abdeslam is thought to be the only survivor of a group of terrorists who orchestrated attacks across the French capital in November 2015, leaving 130 people dead. He is in custody in France, while Sofien A is being held in detention in Belgium.