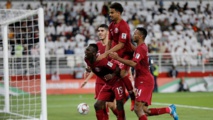 The Gulf Today on Wednesday praised Qatar's "stirring first-half performance" which brought two goals to lay the basis as they "progressed with relative ease" to meet Japan in Friday's final thanks to a 4-0 victory.
The quiet resignation was in stark contrast to pre-match feelings as the hosts hoped against hope to make the final for the first time since 1996.
"With huge turnout of fans inside the stadium and millions praying across the country, there was no dearth of motivation for the players," the Khaleej Times wrote. "The atmosphere was feverish and pressure intense."
There was praise for the attempted second half comeback before two late goals added gloss to the scoreline.
"It was a valiant effort from the UAE players," said the paper, "but it wasn't meant to be their day."
The National newspaper said the UAE had been "outdone" and led heavily with coach Alberto Zaccheroni holding his hands up for the loss.
"First of all, I want to apologize to the UAE fans," it quoted Zaccheroni saying. "I'm the coach and I take the responsibility for the defeat. The tactics we used didn't work and we tried to change it in the second half, but it was too late."
The sport360 portal was also reserved in its criticism of what it called "almost certainly coach Alberto Zaccheroni's last match in charge" as the Italian's contract expires after the tournament.
It also generously ignored goalkeeper Khalid Eisa's crucial error in conceding the first goal which it simply said Hassan Al Haydos "dinked in."