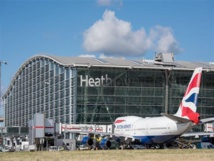 The Court of Appeal said the government had failed to take account of its responsibilities to cut carbon emissions under the Paris climate change agreement when it approved the expansion of Heathrow, Britain's busiest airport.
Friends of the Earth, the main appellant, said the ruling was a "historic and ground-breaking result for climate justice and for future generations."
"Imagine when we all start taking the Paris agreement into account," tweeted climate change activist Greta Thunberg, who is due to lead a Fridays for Future protest in the English city of Bristol on Friday.
"Today's judgment is a major victory for all Londoners who are passionate about tackling the climate emergency and cleaning up our air," London mayor Sadiq Khan tweeted.
Heathrow Airport said it plans to appeal to Britain's highest court.
"The Court of Appeal dismissed all appeals against the government - including on 'noise' and 'air quality' - apart from one which is eminently fixable," the airport said in a statement.
The judges said the government had not complied with legislation requiring it to explain how its approval of the Heathrow expansion "takes account of government policy relating to the mitigation of, and adaptation to, climate change."