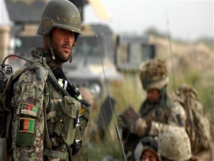 The Afghan defense ministry on Friday said that the country's chief of army staff had ordered the armed forces to respond with full force if the artillery attacks by the Pakistani army continued along a disputed border between the neighbouring countries.
Nine civilians were killed including a child and 50 others wounded after the Pakistani army fired rockets on Afghan soil, according to the defense ministry statement.
"The Air Forces and the Special Forces were placed in high-alert position and if Pakistani military rocket attacks on Afghan soil continued they will face with the retaliatory action by the Afghan army," the statement added.
The rockets landed in residential areas in Spin Boldak district in Afghanistan's southern Kandahar province as people were preparing to celebrate the Eid al-Adha holidays.
Pakistani security officials said a protest against the closure of the border for daily commute turned violent at Chamman area on the other side of Spin Boldak in Pakistan's Baluchistan province, but no live ammunition had been used.
Activists, however, blamed Pakistani security forces for firing at protesters and shelling into Afghanistan where people were also protesting.
The 2,430-kilometre-long Afghan-Pakistan border was created in 1893 between the then British India and the Emirate of Afghanistan.
Battles between neighbouring states along the de facto border known as the Durand Line rarely occur, but relations are considered tense.