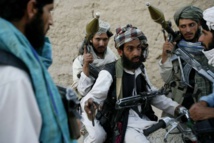 At least 14 Taliban fighters were killed during the clearance operation, Rahimi said.
Meanwhile, Taliban spokesman Zabiuhllah Mujahid said militants left the district after seizing all military equipment. Mujahid denied that the Taliban were driven back by the government forces.
In a separate incident in south-west Nimruz province, a Taliban attack on an Afghan army base in Khashrod district left three Afghan troops dead, Ministry of Defence spokesman Qais Mangal said.
Another six members of the Afghan forces were also wounded in the incident, Mangal said.
He spoke of 34 dead Taliban in a counter-attack in the district, while another 10 Taliban fighters were injured.
Senior Afghan officials have warned that the Taliban would intensify their attacks on Afghan forces in the upcoming year.
The Taliban continues to stage major attacks on security forces despite being engaged in talks with the United States to find a political solution to the war that has ravaged the Central Asian nation for nearly two decades.
The group's military gains have won them considerable leverage in political talks, peace advocacy organization International Crisis Group says.