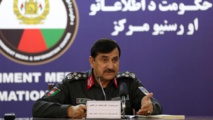 The Afghan government freed Abdul Ghani Alipoor on Monday after two days of violent protests that left four people dead and dozens wounded in several provinces of the country, a statement from the press office of the second Vice President said late Monday night.
On Tuesday, in a video circulated on social media, Alipoor pledged to hand over his arms and register his men with the government as formal members of the security forces.
He also pledged to cooperate with the authorities in investigating the charges he faced.
According to the government statement, second Vice President Sarwar Danish met with Alipoor after his release and expressed his hope that Alipoor would continue cooperating with the Afghan government.
Afghan security forces arrested Alipoor on Sunday in Kabul over charges of extortion from residents of Behsod district of central Wardak. His arrest sparked violent protests in the capital Kabul and Bamiyan, Daikundi, Ghazni and Balkh provinces.
Alipoor is a member of the Hazara minority, an ethnic community native to central Afghanistan. While his main base is in Wardak province, he has also been active in other parts of Afghanistan where Hazara communities live.