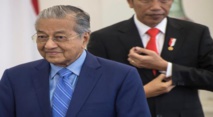 Mahathir, 94, said that it was "normal" in deal-making to ask for an "offset" and that such arrangements were not corrupt unless money was taken for personal use.
"Whether you consider an offset as bribery, it is up to you," Mahathir told reporters after a meeting at the Education Ministry.
Shares in the airline, a household name across Asia, dropped from 1.41 to 1.13 ringgit on Wednesday after it was caught up in allegations that Toulouse-based Airbus bribed its officials to secure aircraft sales - including by sponsoring a sports team owned by Air Asia executives - according the Britain's Serious Fraud Office.
Airbus last week said it agreed a 3.6-billion-euro (3.95-billion-dollar) settlement, which is subject to court approval, with British, French and US investigators.
Tony Fernandes, chief executive officer of Air Asia, stepped down from his position for two months after the allegations emerged about the airline, which flies to 25 countries over 125 routes.
Fernandes and executive chairman Kamarudin Meranun, who also stepped down, together said they "categorically deny any and all allegations of wrongdoing or misconduct."