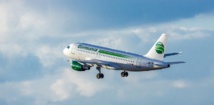 "It is of course the impact that this step will have on our employees that we regret the most. All of them as a team always did their best to secure reliable and stable flight operations – even in the stressful weeks behind us.
"I would like to thank all of them from the bottom of my heart." He also apologized to passengers who would no longer be able to take their flights.
Those who had booked as part of a package holiday should speak to their travel agents, the company's statement said, while those who had purchased flights direct through Germania would not be entitled to replacements.
The airline blamed its financial difficulties on "unforeseeable events."
They included "massive increases in fuel prices last summer and the simultaneous weakening of the euro against the US dollar, considerable delays in phasing aircraft into the fleet and an unusually high number of maintenance events that the airline's aircraft required."
Subsidiaries Switzerland-based Germania Flug AG and Bulgarian Eagle are unaffected by the bankruptcy.
The airline's financial difficulties became public in January, when the company, which has more than 30 medium-haul jets and carried more than 4 million passengers a year, was unable to pay employees' wages.
Germania was founded in 1986 and had been based in Berlin since 2009. It offered flights to more than 60 destinations in Europe, North Africa and the Middle East.
Air Berlin, then German's second largest airline with around 8,000 employees, also ceased operations in 2017 after financial trouble, while the Berlin based charter plane company Small Planet Airlines declared bankruptcy late last year.